Systembolaget works continuously towards sustainability in different areas. The swedish monopoly works to make a big decrease in climate impact and for good working conditions for people in the supply chain. These things include a big variety of aspects, such as transport, environmental protection, fair payments, and employment. Systembolaget works towards goals with strict guidelines, up followings, and risk analyses. You will find more information on Systembolaget's sustainability on this page.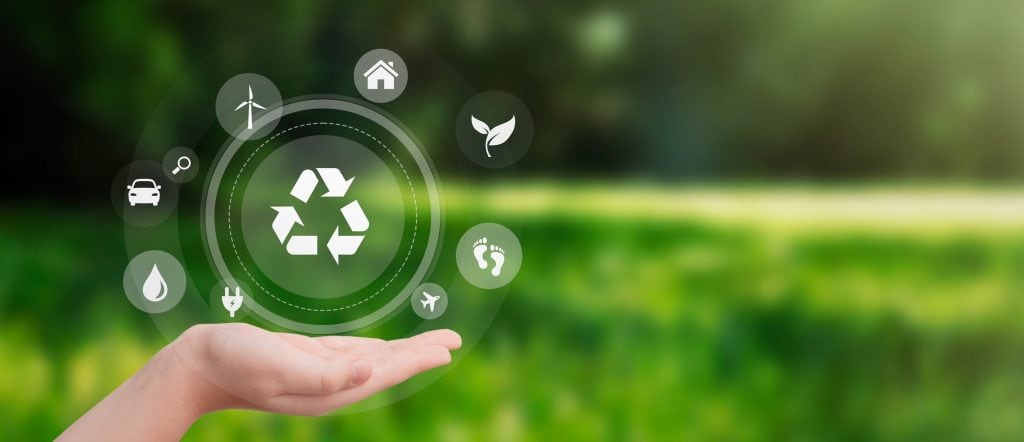 Systembolaget's policies towards sustainability
Here are the main objectives for Systembolaget when it comes to sustainability and reaching a more sustainable range. You can find out how does the Swedish monopoly wants to help its customers buying more sustainable products.
Sustainability labels – An easy way for customers to shop sustainably
Systembolaget has something they call "sustainability labels'' that can easily guide customers to make more conscious choices when buying beverages.
The labels are indicated on the product's shopping label, both in the physical store and online. There are three different types of sustainability labels: sustainable choice label, climate-smarter packaging, and organic label.
The sustainable choice label has three different criteria for a product to be approved:
Environmentally certified cultivation and production. You can click here to learn more on it on their website.
Packaging with a lower climate footprint. Here is the link to their website to read more on it.
Approved in their analysis of working conditions in cultivation and production. You can find their webpage on the topic here.
Working conditions and Human Rights
Systembolaget works widely to promote good working conditions in the industry. This aspect is constantly developing, and the process contains analysis, making demands, gathering information, and educating people. For a successful and long-term sustainability work, it is essential to have a good, and vivid picture of the whole supply chain, from start to end, with access to traceability.
It is a complicated process as Systembolaget has hundreds of beverages from different producers, many of which have subcontractors. The import companies that work with Systembolaget, are the suppliers and they have the responsibility to make sure that the producers follow all the guidelines.
Systembolaget also released a framework for sustainable procurement explaining their goals and how they are going to fulfill them. You can download this document by clicking here.
Climate and environmental impact
Systembolaget works toward goals to decrease their climate impact. This involves a large variety of things such as transport, packaging, and production. This requires innovative changes and new thinking when it comes to packing solutions for example.
Climate targets
Basing their analysis on science results and on the Paris' Agreement of 2015, Systembolaget came up with multiple decisions to decrease the impact they can have on the environment. They are also working towards reducing the climate impact of their supply chain.
''Halving emissions is a major task and together is a keyword. Suppliers, producers, growers, carriers, Systembolaget, consumers etc. – everyone has an important role to play. The 2030 goal cannot be realised without cooperation.'' – Systembolaget
The climate targets that Systembolaget states on its website are:
By 2030, the climate impact of Systembolaget's entire value chain shall be 50% lower compared to 2019. This means reduced emissions from cultivation, production, beverage packaging and transportation of beverages as well as from customer trips to and from our stores (Scope 3).
By 2025, Systembolaget will have reduced the climate impact of its own internal business operations by 90% compared with 2019. This means reduced emissions from internal energy consumption and company vehicles (Scopes 1 and 2).
These are interim targets on our journey towards 2045, when Systembolaget is aiming for net zero climate impact.
What can I do as a supplier to get my products in Systembolaget?
Systembolaget has important guidelines and sets requirements for products that they sell. In order to help our supplier in this process, we used our experience to create a guide that has been sent to all winning producers. You can find the link to this guide below. It will give you all the information that you need and a good insight of what applies in case you win a tender.
In this section, you will find more documents to read in order to become an expert on Systembolaget's sustainability measures and plan.
Read about the "Human Rights due Diligence Roadmap", a collaboration between the Scandinavian monopolies here.
Read more about Sustainable choices and the criteria on how to become a Sustainable choice, for the three categories of products. All links will allow you to access pdf made by Systembolaget.
Here is a document found on Systembolaget's website about their sustainability platform that is used after a product wins a tender. It explains the whole process a producer will have to go through to be able to import a product. Our guide on this step can be found above.
Systembolaget and their sustainability platform
As Alko and Vinmonopolet, Systembolaget uses the Amfori code of behavior to determine if its suppliers are behaving in accordance with its guidelines regarding Human Rights.
Q&A section
What are the different sustainable labels for Systembolaget?
You can find three different labels types: sustainable choice label, climate-smarter packaging, and organic label.
What are the goals of Systembolaget towards sustainability?
The biggest goal of Systembolaget to improve their sustainability is to reduce by half its entire value chain impact on the environment by 2030.
Does Systembolaget only targets the environment in its sustainability policies?
No, Systembolaget also targets working conditions and Human Rights in it value chain by using the amfori code of conduct.