This is a manual to the new Concealed Wines' website, to help producers understand it's purpose and all useful functions in order to make the tender process as easy as possible. Following functions will be explained in this guide:
To get to our homepage, click here.
How to register as a client
To sign up as a client, click on the symbol in the upper right corner of the homepage.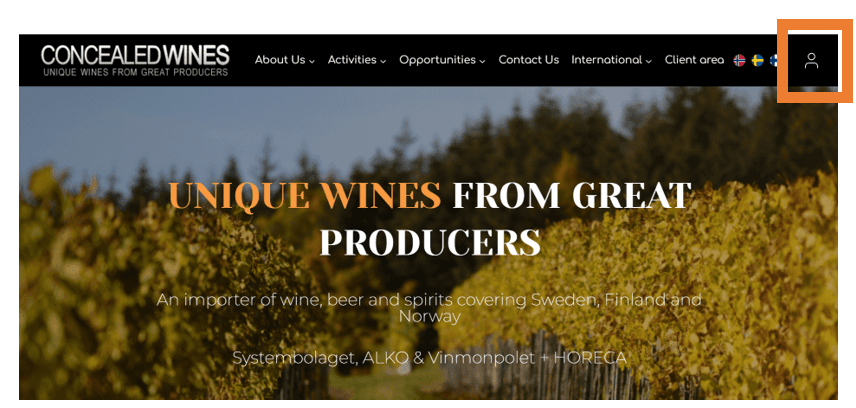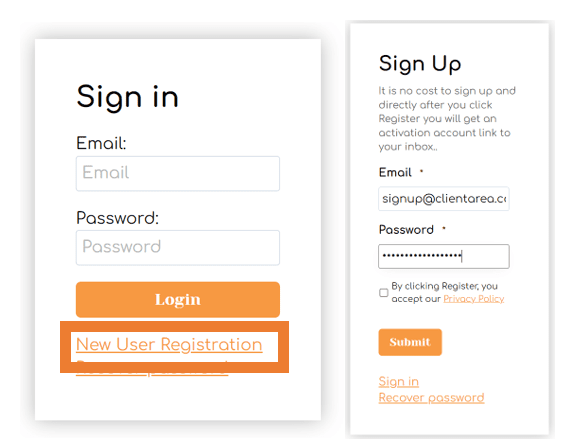 A window will come up, where you can either sign in if you are already registered, or you click on "New User Registration". A new window will appear, where you can enter your email address and a password of your choice. Don't forget to accept the Privacy Policy and then click "Submit".
To activate your account, you will receive an email with a link that will lead you back to our website. There you can now sign in to your newly created account.
About Client Area and how to edit your profile
If you click on "Client Area", you have the possibility to update your contact details.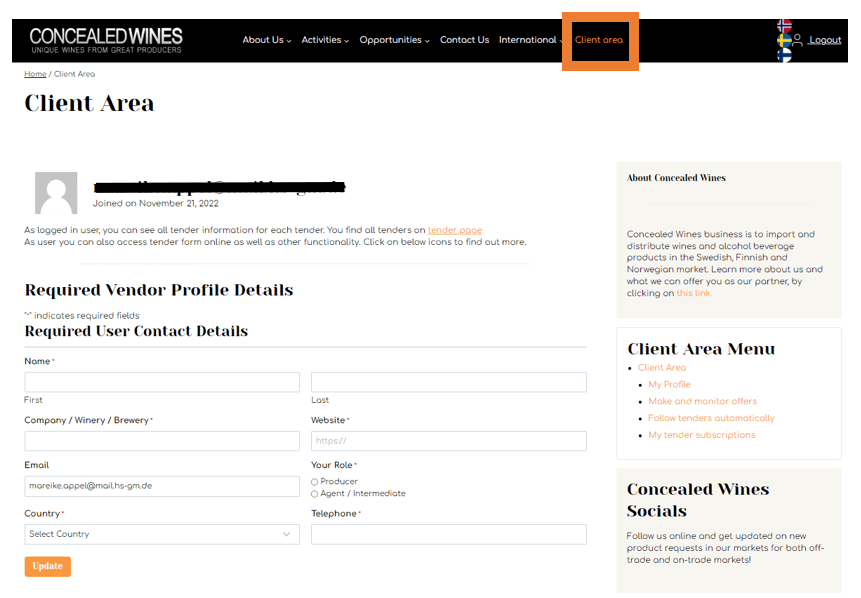 How to search and find current tenders
Now that you are registered as a client, you have access to 100% of the tender information. We have sorted the tenders by country of origin of the demanded products, to help producers search and find matching tenders.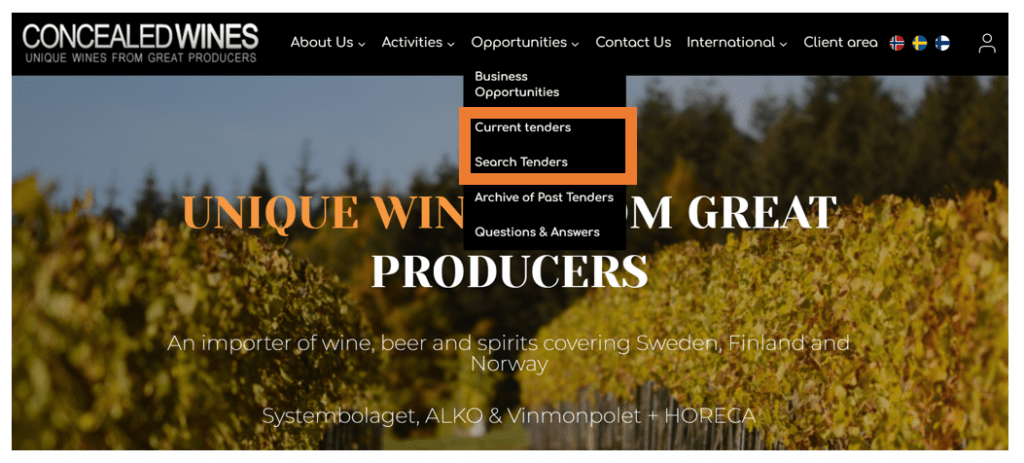 There are two ways to find tenders. First way is browsing through all tenders of your country of origin by clicking on "Current Tenders" under the tab "Opportunities" on our homepage. There you will see all countries listed, and you can click on the respective links to "See tenders" for your country. In case you cannot find the country of your product, click on "Other countries", you might find it there. (https://www.concealedwines.com/current-tenders/).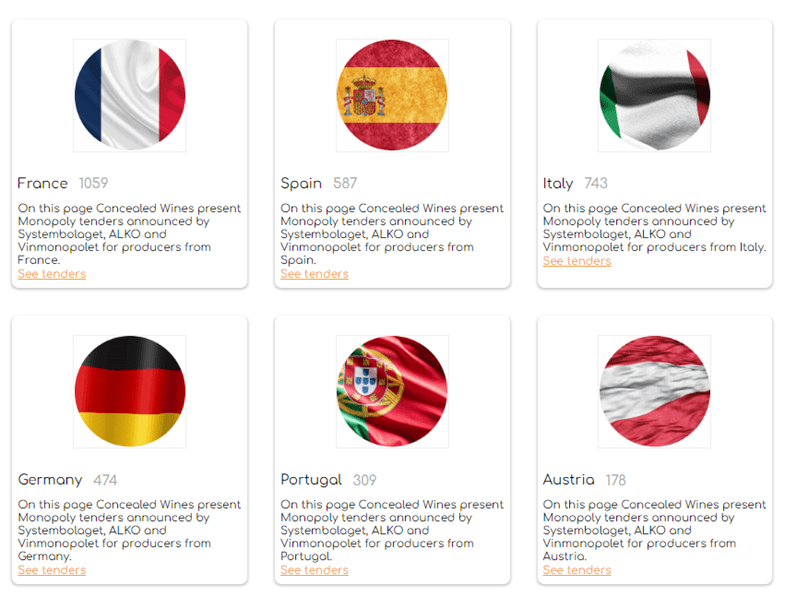 If you scroll down, there is also the possibility to see all tenders sorted by product category. Since spirits, beer and cider are less likely to require a certain origin than wine they are easier to find here other than in the tenders listed by country.

Another way to find a tender is the option "(Search Tenders", which you will find under the tab "Opportunities" on the homepage. (https://www.concealedwines.com/search-tenders/)

Here you have the possibility to search more accurately based on which market you are interested (Sweden/Norway/Finland), the country of origin, the product type and whether you want to see open or closed tenders. Sometimes browsing through old tenders can help you get an idea of what the demand can look like for your product, in case you don't find any matching current tenders.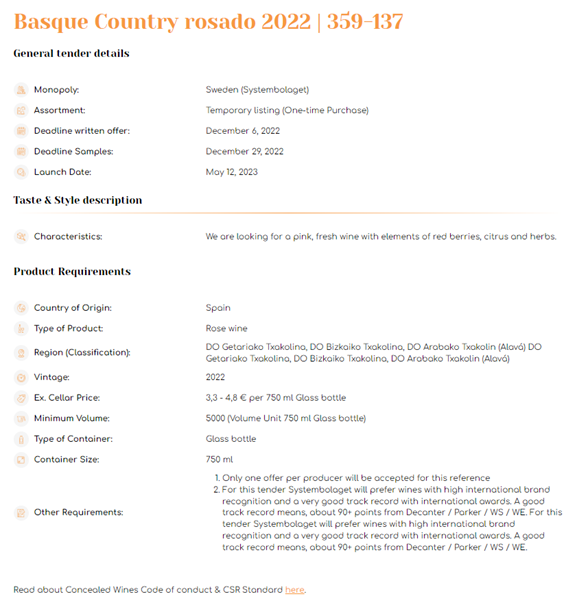 Above you can see an example of what a tender can look like. Anything under "Product Requirements" can only be seen if you are logged in as a client, so we strongly recommend to do that. Below the details, on the same site, you have the opportunity to directly apply to this tender in case all the requirements match your product perfectly.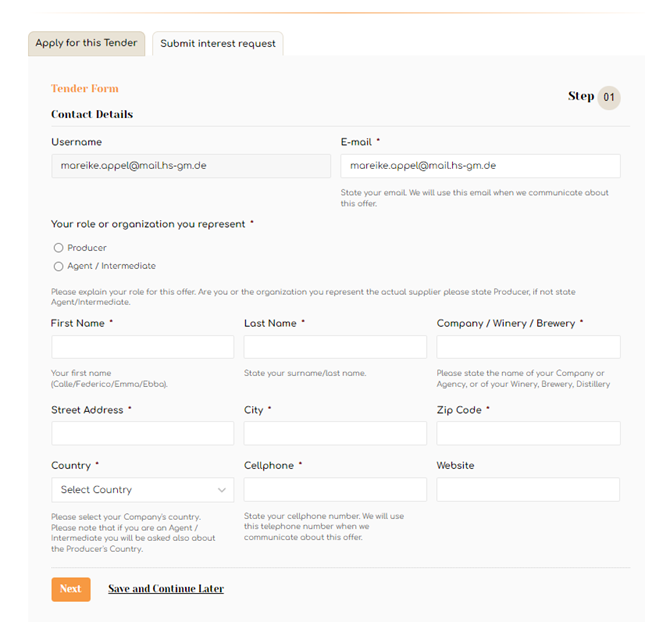 How to use the star function to follow tenders

For every tender you have the option to mark it with the star above the tender title to "follow" it.
To see all the tenders you are following, click "Follow tenders automatically" in the Client Area Menu on the right side. Here you will see all star-marked tenders.
(https://www.concealedwines.com/client-area/track-tenders/)
How to subscribe to new tenders
New tenders for all three markets are regularly published throughout the year. In order to stay updated about your country, region and product type, you have the possibility to subscribe to a filter setting and get an email as soon as a new result has come up.
Click on "My tender subscriptions" in the Client Area Menu to reach the site for that. (https://www.concealedwines.com/client-area/my-subscriptions/)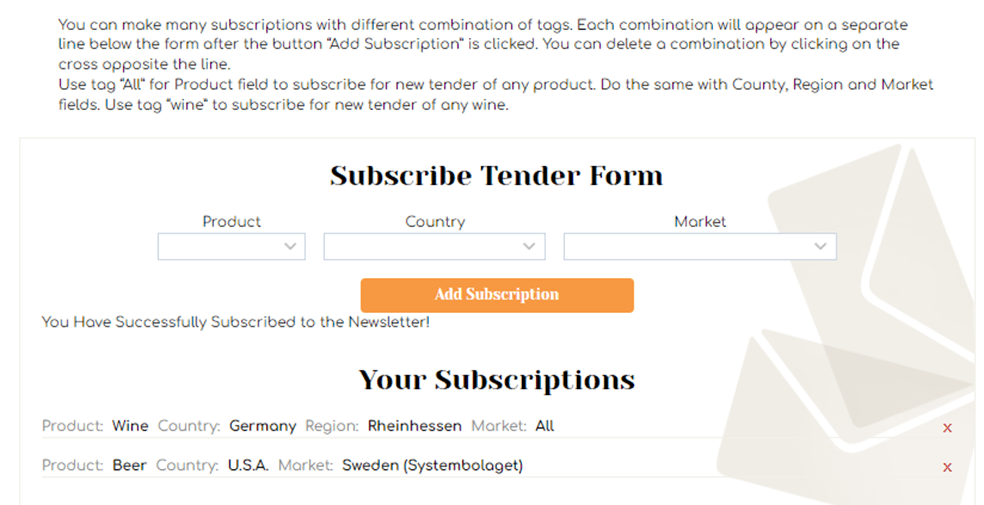 If you have questions or problems using any of our website's functions don't hesitate to contact us. We will be happy to help.
Concealed Wines AB (556770-1585).
Bo Bergmans gata 14, 115 50
Stockholm, Sweden
+46 8-410 244 34