[two_third]
DEFINITION:
Wines that are organic certified by an organization that is accepted in accordance to EU regulations.
DESCRIPTION:
As you probably notice on many markets all over Europe, the demand of organic certified wines has increased. In first 6 months in 2010Systembolaget increased sales of organic wines by almost 20%. We have noticed that not only the requests from Systembolaget have increased but also the demand from the end-consumer as well as the restaurants. In the next coming years we believe that this trend will grow and many of the wines requested will be for organic certified wines.
RELEVANCE OF TREND:
Probably one of the strongest trends on the Scandinavian wine markets.Systembolaget, Vinmonopolet and Alko ask more and more for organic certified wines as well as the consumers in these markets. Also Bio-Dynamic wines are requested but usually the monopolies focus on the organic certifications.
STRONGEST INPUT FACTOR:
The end-consumers
RELEVANT LINKS:
Eco-Cert – An example of a common certification
KRAV – A Swedish certification equivalent with the one above
READ ABOUT THE OTHER TRENDS
THE PET-BOTTLE FORMAT
LIGHTWEIGHT BOTTLES
[/two_third]
[one_third_last]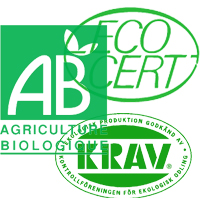 [/one_third_last]